The Home Page for filmmaker
Richard Clabaugh

, also known as "The Man in the Red Shirt."®

So much going on, so busy with production, shooting, editing, making shows… not much time for keeping up the website, but it was time.  I'm redoing this site from the ground up and also updating my reel too, all while trying to move forward with the many projects we've got in production.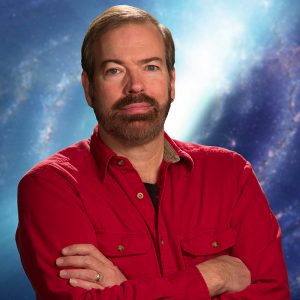 Fear not!  All the great stuff that was here before, all the behind-the-scenes photos and information from so many of the films I've worked on, will be back!  I  just need time to update it all from ancient hieroglyphic HTML (that's what the "H" in HTML stands for, right?) to a newer, nicer, and hopefully, easier to maintain format.
In the meantime, if this is your first time here, below you will find some basic bio information along with links and trailers to some of my work.
Enjoy.
About Richard Clabaugh (elaborated from IMDB)
Richard Clabaugh is a filmmaker and film teacher known primarily for his work as a Director and Cinematographer on feature films, as well as for always wearing a red shirt.
Professionally, his diverse body of work includes an abundance of feature films, mostly in the action and horror genres, although he has also done comedies, dramas, commercials, reality TV shows, magazine programs and much more.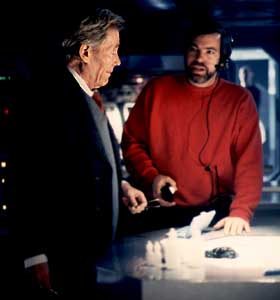 Richard Clabaugh established himself early on as a popular genre cinematographer with such films  as The Prophecy starring Christopher Walken,  No Way Back starring Russell Crow and the breakout action film American Yakuza starring Viggo Mortensen.  He was also Director of Photography on the feature film Phantoms, based on the novel by Dean Koontz  which starred Ben Affleck, Liev Scheiber, Joanna Going, Rose McGowan and the legendary Peter O'Toole.
He began his feature film directing career with the cult classic Python starring Robert Englund, Wil Wheaton, and Casper Van Dien before taking a teaching position at the UNC School of the Arts.  During his tenure there he also directed the indie-feature film Little Chicago.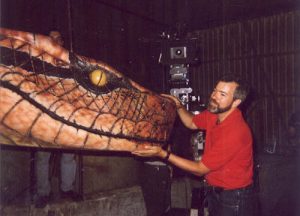 After nearly a decade as a college instructor Richard Clabaugh returned to motion picture and television production full time.  He and his partners established Crimson Wolf Productions whose first major feature was the highly acclaimed indie-SciFi film Eyeborgs, [see Eyeborgs Reviews below] which he directed, as well as co-wrote and produced.  Recently he formed his own independent company RedCom Productions from which he develops and produces television programs and web series.
Under the RedCom Productions banner he produced 3-seasons of the broadcast television series, Life in the Carolinas, winning multiple Emmy Award nominations and garnering several Telly Award wins.  Currently RedCom is in production on multiple projects, including the animal series Reptile Rangers.
In addition to producing, directing, writing, shooting, editing and doing visual effects, he makes himself available for guest teaching assignments, lectures and speaking engagements.  Often he talks on the subject of how to shoot action and visual effects effectively.  He also hosts online filmmaking tutorials which he makes available through his website The Kinetic Image.
Currently he is in development on multiple series and motion-pictures set for production in the coming year.
---

---
Videos and Quick Links
EYEBORGS
Trailers
Trailers for the sci-fi feature film EYEBORGS, co-written, co-produced and directed by Richard Clabaugh.
Quotes Trailer
Teaser Trailer-30 sec.
Story Trailer-2min:
---
The Kinetic Image
Tutorial Page and YouTube Channel:
www.thekineticimage.com
The "Circle of Confusion" Tutorial Video
---
Links
Company Pages:
RedCom Productions: http://redcompro.com/
Crimson Wolf Productions: http://crimsonwolfproductions.com/
The Kinetic Image
Main Page and You Tube Channel:
http://www.thekineticimage.com
Richard Clabaugh's IMDB Page:
http://www.imdb.com/name/nm0002709
Richard Clabaugh's LinkedIn Page:
https://www.linkedin.com/in/richard-clabaugh-28712424
Richard Clabaugh's Facebook Page:
https://www.facebook.com/rclabaugh
Movie Pages:
Python – Informational page (currently being updated)
First page I've begun copying over.
http://rclabaugh.com/wp/python-the-movie/
Little Chicago – Trailer for feature film:
https://vimeo.com/1708160
---
EYEBORGS REVIEWS: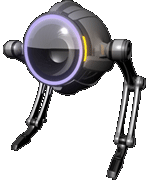 Eyeborgs Review – Cinefantastique – Scott Shoyer
Eyeborgs Review – Colorado Springs Independent – Louis Fowler
Eyeborgs Review – QNetwork – James Kendrick
Eyeborgs Review – DVD Savant – Glenn Erickson
Eyeborgs Review – Horror.Com – Staci Layne Wilson
Eyeborgs Review – JoBlo.com – Ryan Doom
Eyeborgs Review – FIMO [Film Is My Oxygen] – Faith Danvers
Eyeborgs Review – Film Critics United – Christopher Armistead
Eyeborgs Review – DVD Talk – Adam Tyner
Eyeborgs Review – Horror News – Bonedigger
Eyeborgs Review – Quiet Earth – Ben Austwick
Eyeborgs Review – SciFi Gene
Eyeborgs Review – DeVil Dead (DvD) – Antoine Rigaud <–This one is in German!